THE GYUTO IS AN INDISPENSABLE KNIFE IN EVERY KITCHEN!
Culinary perfection combining award-winning craftsmanship and cutting-edge technology in the best materials available.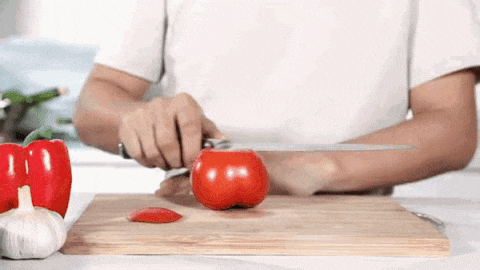 The Gyuto is extraordinarily sharp... 
You can cut a slice of bread so thin you can see right through it!
The Gyuto knife cuts meat better than an electric knife. It cuts through frozen food like butter and can even split wood, while remaining as sharp as a razor.
How much would you be willing to pay for a professional knife that lasts a lifetime?
Before you answer, know that the Gyuto has the most durable blade in the world. This could be the last knife you buy in your life!

Over the years, the blade has been made from Japanese 440cc steel... The same material used to make the hyper-sharp katanas. With the Gyuto™, you will feel like a ninja in your kitchen!

SPECIFICATIONS:
Total length of the blade: 20.3 cm
Each knife is delivered with its scabbard and its kit.
Blade hardness: > 58-60 HRC
Blade thickness: 2.8 mm
Material: Japanese forged steel 440cc / 7Cr17
Knife style : Japanese Gyuto
Design: Demascus design blade- + Pakka wood handle
Certifications: EEG, CE / EU, SGS, LFGB, CIQ, FDA